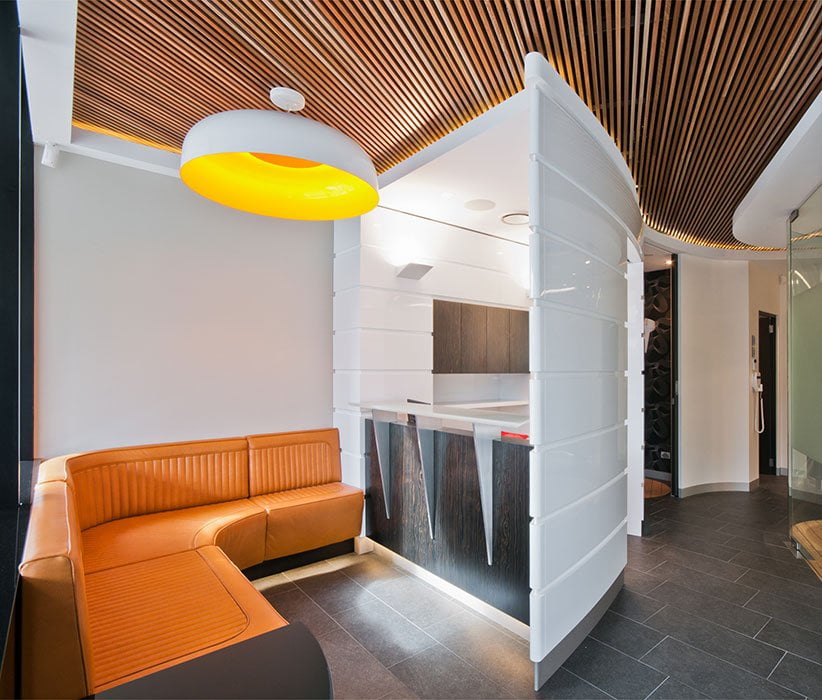 As it appeared in the Australian Podiatrist Magazine Dec / Jan 2017 issue
Perfect Practice is an industry leading Australian family owned and operated, healthcare construction fit-out business. Perfect Practice offers an end to end solution that integrates design, budget planning, scheduling and construction to create stunning, timeless practices.
For more than a decade, Perfect Practice have been creating amazing practices in the healthcare industry and continue to deliver innovative designs built for tomorrow. The working environment has a huge impact on our general health and wellbeing since we spend many of our waking hours in the workplace.
Healthcare clinics were once drab spaces associated with fluorescent lighting, cold tiled floors and the smell of antiseptic but more and more practices are moving towards creating warm and welcoming environments that make patients feel at home and relaxed. No matter who you are and at what stage you are at in your life, walking into a practice that gives you a feeling of comfort, safety and pleasure will always evoke a positive response in comparison to entering a cold and clinical space where you feel fear and anxiety. Ultimately this is why it is important to make the patient feel at ease.
The design and layout of any workplace is vital for productivity, efficiency and comfort for its occupants. Good design and layout can play a pivotal role in the healthcare industry, especially when precision, professionalism and stress management are seen as key elements for any practice. A well-designed healthcare practice is a place to be enjoyed, a place that patients will want to come back to and a special place for staff to work at. Simple design factors like a splash of colour, natural sunlight and furniture changes can transform the whole dynamic of your practice. Important elements of a successful practice include the aesthetic design and quality decor that will stand the test of time and practicality – it is a workplace after all, the design should make the lives of staff and patients easier.
As designers who strive to "get it right," Perfect Practice's clients have said their investment in design has allowed their practice to blossom. Every client starts with a dream whether they are a small one-chair practice or a large medical centre. Rarely are these dreams ever the same but the end goal is always to create an ideal work environment that reaps noticeable improvements.  Clients who have redesigned their practices have noted greater pleasure in their work, increase in treatment acceptance, higher level of function from staff, ability to attract better staff and higher sales, cohesively increasing their bottom line.
Your practice design not only has an impact on your work cycle but also on the experience of patients who step into your practice. First impressions are important to any business, especially where services are provided.
A good practice design must include sufficient vision of the overall project and business plan. The vision can sometimes be lost amongst the fine details that can jeopardise the longetivity of the new fit-out. Plans for expansion, room for growth and space for future services must be considered in as much detail as the positioning of the lights and doorways. Not allowing enough design time can be detrimental to a project, which doesn't promote effective decision making for all parties involved thus the end product is compromised for quality & good design. When designing a healthcare environment – Perfect Practice have created over 600 – the right balance between function and aesthetics is what ensures a successful practice. How we enter a practice, navigate our way through and travel between public, clinical and private areas, all determine the success of a developed plan.
Creating successful circulation and optimum area relationships, while at the same time being conscious of visual emphasis and human energy flows, is grist for the mill for good designers. Throw in the added ingredients of aspect, natural light and compliance with statutory building code requirements and you have the raw ingredients for a masterpiece.
So why are the aesthetics of a healthcare practice important? What we feel when we enter, wait for treatment, or work in a practice has significant effect on our psychological and physiological response. It is the aesthetics that can tell the patient and the staff how much the practitioners care about their work, and are an imperative voice that predetermines a patients expectations and experience.
The biggest marketing asset to any healthcare practice is the environment and the people who work in it. The way that a patient feels at the beginning, during and after a consultation period is paramount to the business' marketing efforts.  It is like a web site that is easy to navigate, informative and looks well designed… a well-designed healthcare practice works in the same way. If it has good workflow, function and is well finished, you are more likely to come back to that practice.