Umbrella Health's maiden clinic provides the perfect shelter
Customer focus is not just another catchphrase at Umbrella Health. In fact, the Melbourne group practice that broke ground in Bentleigh East last year – soon to be followed by new clinics in Camberwell, Albury, and Edgewater – is not shy about revamping the concept of patient care.
Umbrella's unique approach to making the patient's life easier leans more towards Silicon Valley than to your average family clinic. The clinic provides real-time phone notifications informing patients when it's their turn to see the GP. There's also an UmbrellaTM app in the works that will manage all patient interactions with the clinic, featuring live updates of appointment bookings, prescriptions, interactive health plans, etc.
Needless to say, Umbrella's elevated sense of customer care is reflected in their physical environment. "At Umbrella we have a vision that the business of getting better should feel better," says Michael Cochrane, Umbrella Health's Founder and CEO – alluding to his overarching vision to create an oasis of calm so that patients can "take a deep breath and focus on their wellbeing."
The job of turning Michael's patient-focused workspace into reality went to healthcare design and construction specialist Perfect Practice.
"They came highly recommended by a practice owner. What appealed to me about Perfect Practice is the family company aspect – they are a team whose business ethics reflect our own. Their proven track record also gave us confidence that our first practice was in good hands."
Looking at the beautiful results of the Bentleigh East clinic leaves little doubt as to why Michael has also entrusted Perfect Practice with the other two branches' renovation work.
Rich in detail and sumptuous in artistry, the first Umbrella clinic is a sight for sore eyes. From the unique colour palette to the eclectic mix of quality furnishings, all the design elements work cohesively with nary a dull visual moment. The layout is thoughtful and practical with generous well-defined spaces allotted for the reception area, four consult rooms plus a pathology and treatment room.
The look and feel is exactly what Michael had envisioned, what he calls "day-spa aesthetics" or a restful environment in which customers can unwind from the hustle and bustle of the daily grind.
Upon entry, the timbered strip-and-panel feature wall behind the reception immediately evokes the au naturel setting synonymous with day spas. Accentuating the "home away from home" experience, the clinic provides separate nestling areas, flanked by vertical gardens, in the waiting room as well as a cosy corridor. Exquisite carpets marking out the floor space into zones transmit that warm, luxurious vibe.
The consult rooms get the same cosy treatment and tasteful design, providing just enough visual interest to help alleviate patient stress. All in all, it's a patient's paradise that staff members wouldn't mind indulging as well.
Asked to pick his favourite design element, Michael zeroes in on the 'guitar pick' shaped tables in the consult and reception areas which serves a "hybrid function between both a GP room and a specialist suite".
"Our nifty hidden door to the Practice Manager's office behind reception is also a talking point for patients and visitors."
One of the more exuberant visitors was an employee of the previous tenants. "She was blown away by how the space was transformed and was absolutely convinced we had increased the size of the clinic."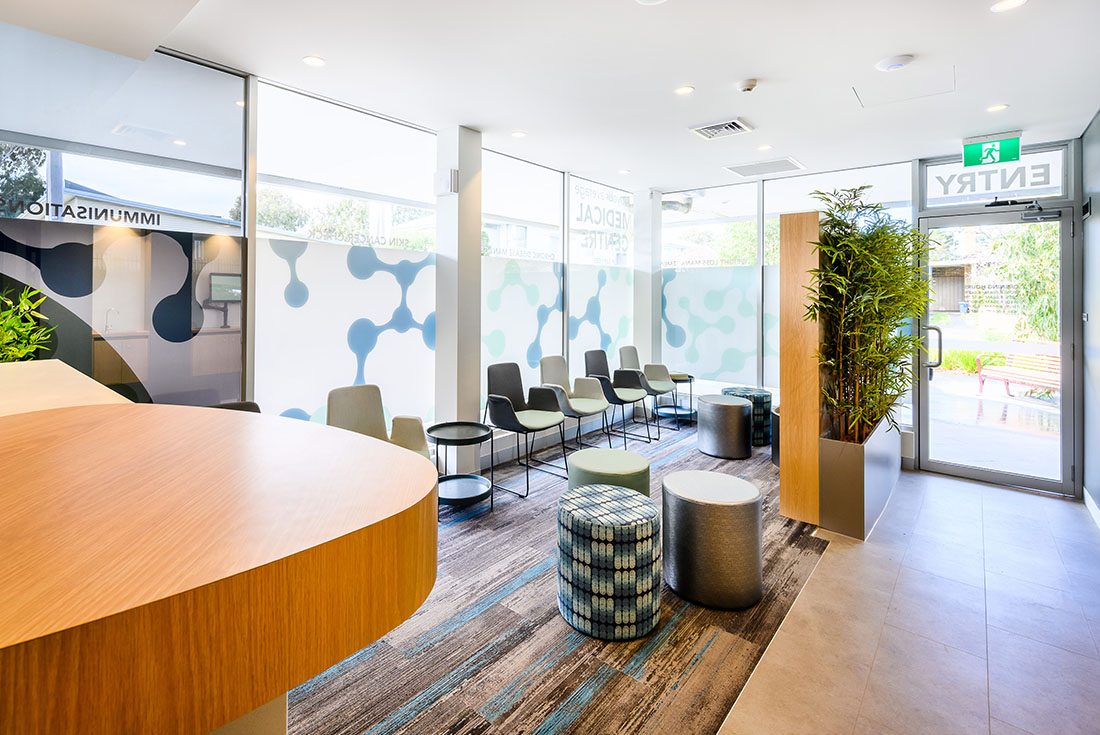 Perfect Practice's background in healthcare design and construction did not disappoint in the area of project management either.
Alternating between organising approvals for council and building permits and coordinating a raft of onsite activities within a tight schedule, the Project Manager Aaron Jenkins delivered the 12-week project a mere two days behind schedule. Michael says the slight delay was caused by later-than-expected council approvals and lauded the team's "remarkable effort".
"The team really pulled the schedule together and compressed the time of other items, while not compromising quality of finish."
He finds particularly impressive how the fitout crew managed to stay on budget despite being challenged to "cram more materials into the space".
"We are building our next clinics with them so I guess that means we are very happy around cost and delivery.
Beyond the clinic's "day-spa aesthetics", Michael says, is ultimately a functional workspace. Summing up his thoughts on Perfect Practice's passionate customer-focused team, he concludes: "It's just a good fit for who we are and what we do."