Medical clinics inherently possess a diverse range of noises, originating from equipment alarms, monitors, the manoeuvring of furniture and devices, and announcements made over their public address systems. Waiting rooms, in particular, add to the hive of activity with conversations taking place between patients, caregivers, and – notably – children. Their boundless energy can sometimes elevate the noise level, leading to moments of chaos. Recognising the importance of a calming atmosphere, creating a comfortable and engaging environment in medical clinics becomes paramount, not just for the young but for adults too. In this blog, we'll explore the challenge of noisy kids in waiting rooms and the innovative solutions we employ to transform these spaces into havens of comfort and engagement.
The Challenge of Noisy Kids
The innocent chattering, laughs, and occasional tantrums of children can inadvertently disrupt the calming ambience of waiting rooms. Not only does this create stress for other patients, but it also affects the administrative and clinical staff. Whether it's a toy being tossed across the room or the echoed cries of a bored child, the reverberations are felt deeply. Studies have shown that elevated noise in healthcare settings can increase stress levels and aggressive behaviour, potentially affecting sleep during treatment. The need for effective solutions to absorb this chaos and create a serene atmosphere is evident.
The Perfect Practice Approach
At Perfect Practice, we specialise in designing functional and aesthetically pleasing waiting room spaces. With a client-focused approach and years of expertise in creating environments tailored to medical clinics, we take pride in crafting solutions that address the unique challenges of noisy kids in waiting rooms. Our recent collaboration with Garden Family Medical showcases our commitment to transforming these spaces into something truly special.
Our recent collaboration with Garden Family Medical presented an exciting challenge. The clinic sought a solution to manage noisy kids in their waiting room, and we were eager to assist. With a comprehensive design approach, we transformed their waiting room into an engaging and functional space. The results speak for themselves, with reduced stress for children and parents and a welcoming environment that aligned with the clinic's values.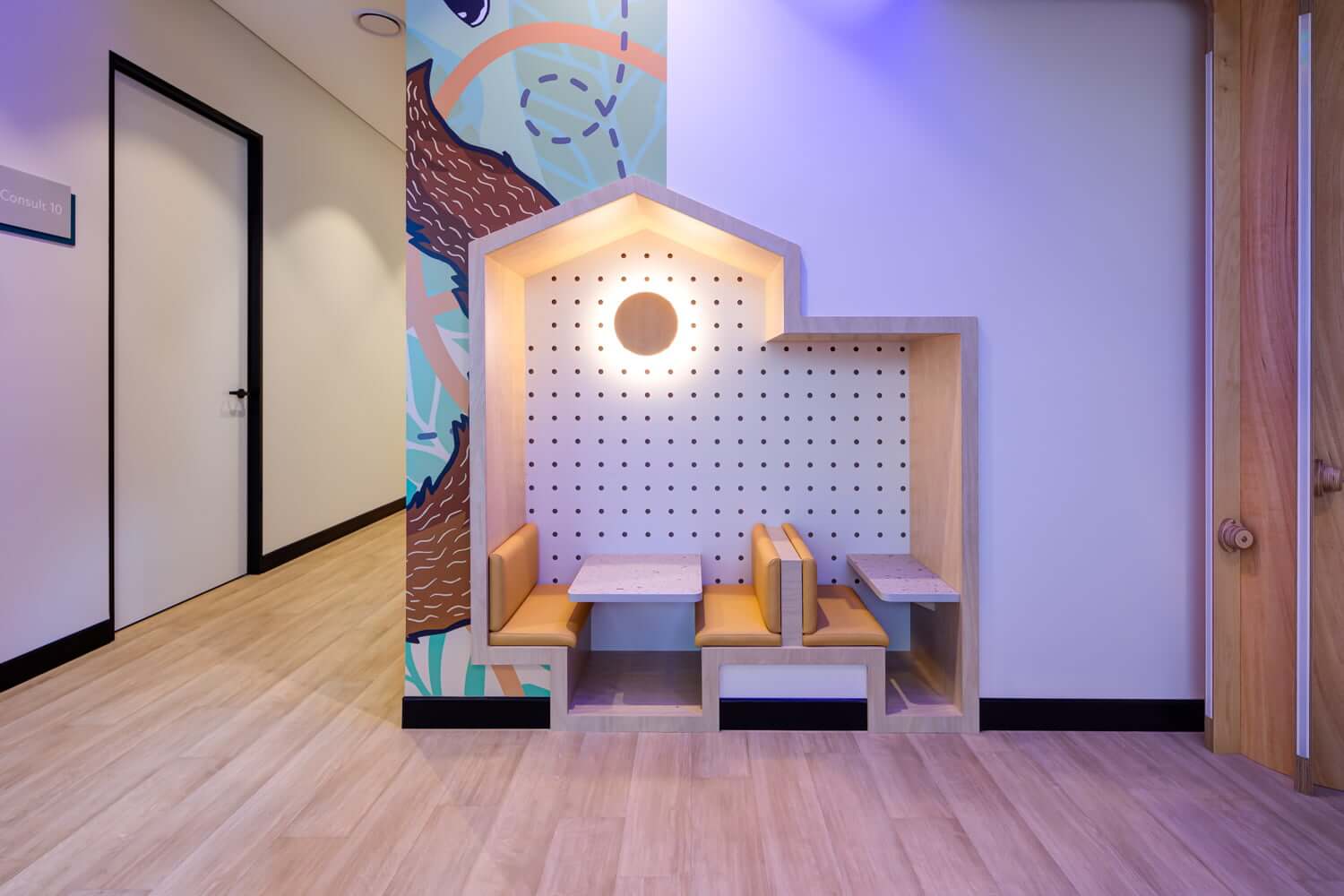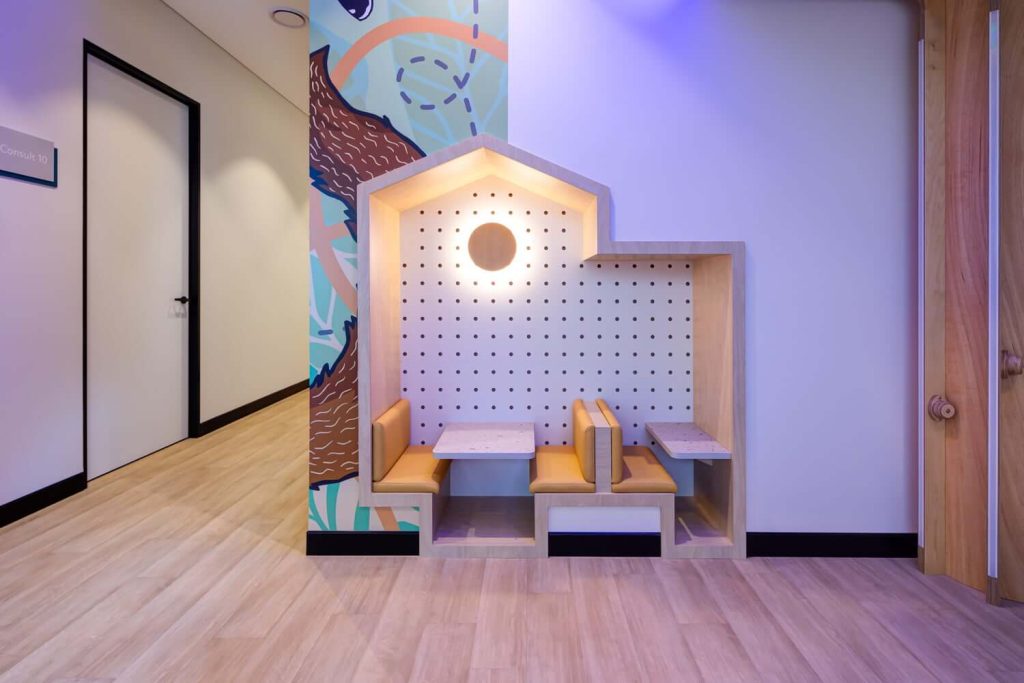 Strategies to Absorb Chaos
From play zones that entice young ones to comfy seating that keeps both kids and adults content, these ideas are the key to crafting waiting rooms that soak up the noise and make everyone's experience more pleasant. We share three tried-and-true strategies below that effectively absorb the chaos.
A. Interactive Play Zones
One of the most effective ways to manage noisy kids in waiting rooms is by introducing interactive play zones. These designated areas are designed to keep children engaged and entertained while they wait. Whether it's educational wall games, colourful puzzles, or a captivating storytelling corner, interactive play zones are a hit with kids of all ages.
Put into practice: Our dedicated children's area for The Garden Family Medical clinic included a kid's alcove reading area, LED strip lights, and interactive screens to keep young patients entertained while they waited.
B. Comfortable Seating
Comfortable seating is not only essential for adults but also for kids who may need a break from their playtime adventures. Ergonomic seating solutions in waiting rooms provide a comfortable haven for parents and caregivers, allowing them to supervise and engage with their children easily. 
Put into practice: When we took on a project for a leading paediatric clinic in Sydney, we recognised the unique needs of young patients and their guardians. Instead of traditional seating, we opted for modular seating solutions that could be easily reconfigured. These ergonomic designs not only ensured comfort but also facilitated better interaction between patients and caregivers. Furthermore, in the children's section, we introduced kid-sized furniture with rounded edges and vibrant colours, ensuring safety while captivating young imaginations. 
C. Engaging Decor
Engaging decor can work wonders in creating a visually appealing and child-friendly environment. From vibrant, nature-inspired murals to thematic decor that sparks a child's imagination, the possibilities are endless.
Put into practice: Our client requested a welcoming waiting room that didn't look like a boring clinic. With the help of simulated experience technology, we incorporated a large fish tank, a Dr. Seuss wall decal complete with a quote, and an indoor vertical wall garden to demonstrate the endless possibilities with engaging decor.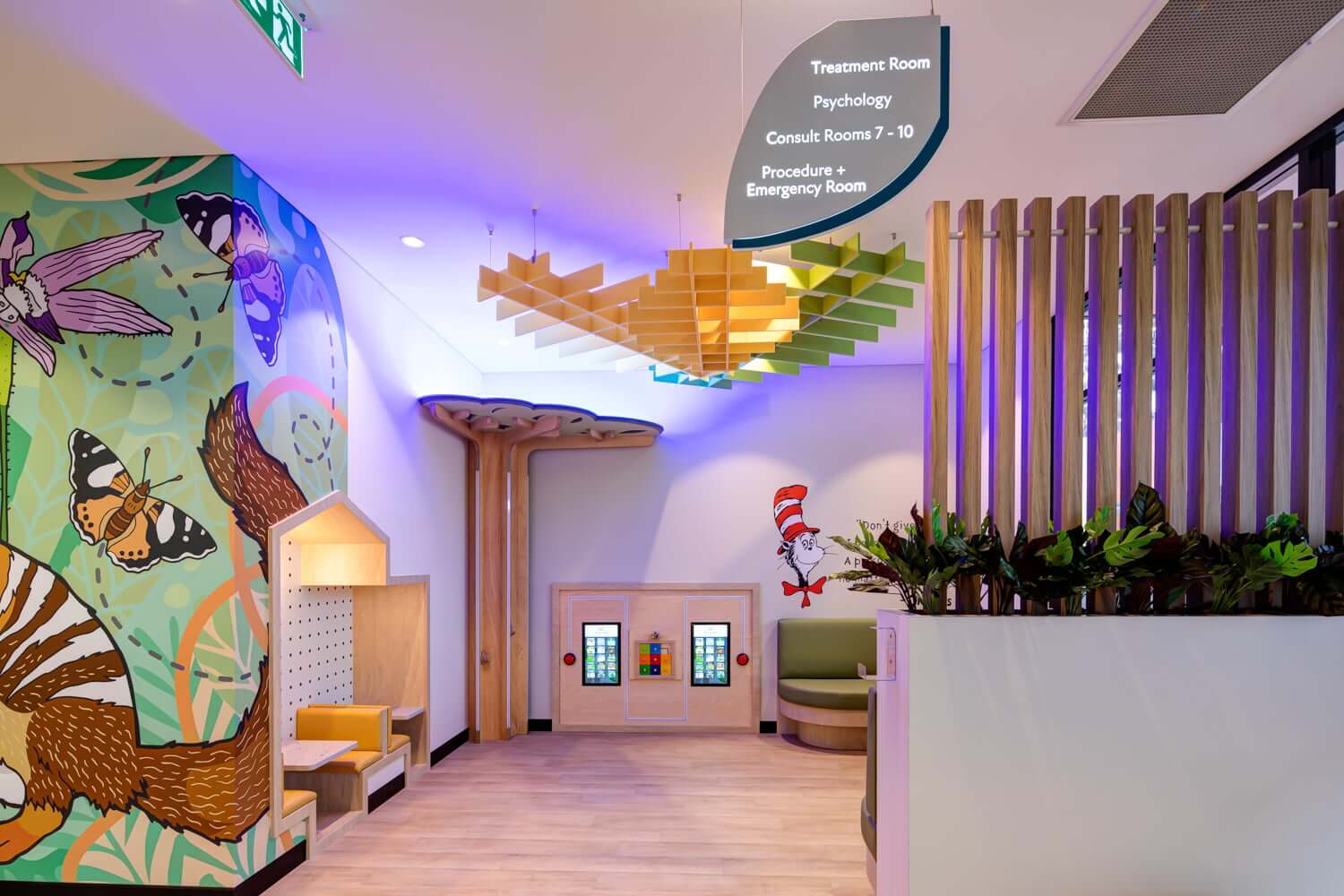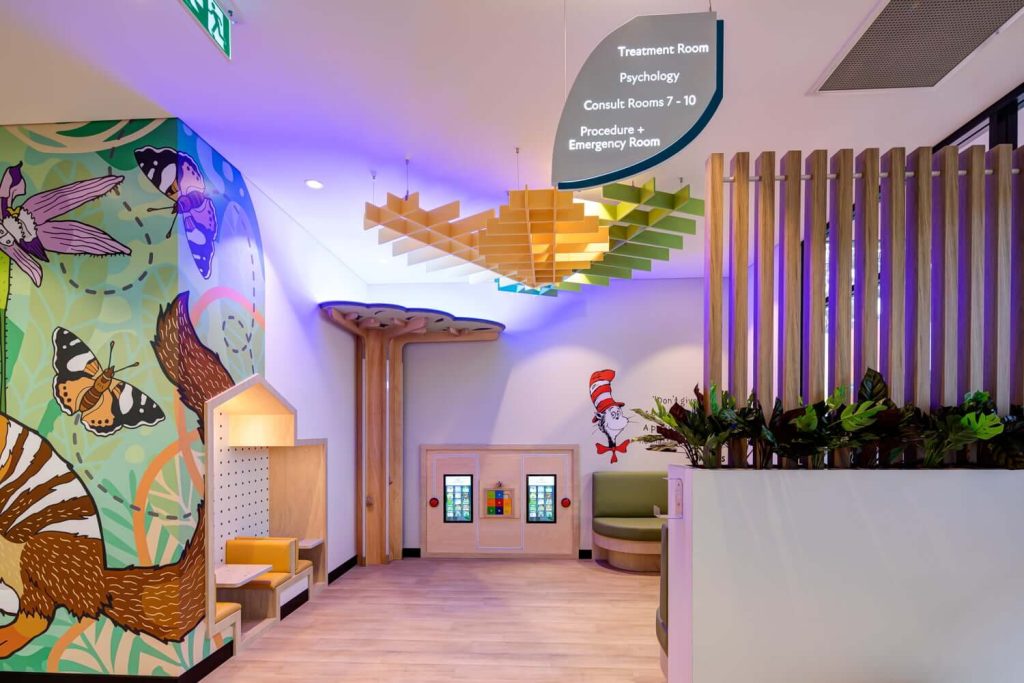 Why Patients Prefer Child-Friendly Medical Clinics
From a patient's perspective, the benefits of child-friendly medical clinics are manifold. Firstly, these environments reduce anxiety and fear in children, making the healthcare experience less intimidating. Secondly, parents appreciate the convenience and thoughtful design, which keeps their children engaged while they wait. And lastly, child-friendly clinics enhance the healthcare experience, turning a routine visit into a positive memory for young patients and their families.
Just some of the benefits of a well-designed waiting room include:
Patients experience improved satisfaction

Overall reduced stress levels for administration and clinical staff, and patients

A more enjoyable waiting room experience for everyone present

Enhancing a clinic's reputation as a healthcare provider that truly cares about its patients' well-being.
Don't just address the noise – absorb it with Perfect Practice
The clamour of noisy children in waiting rooms isn't merely an inconvenience; it's a call to action. If your clinic or space faces similar challenges or you're seeking a fresh redesign, don't hesitate to contact our team at Perfect Practice. Our consulting experts possess a nuanced understanding of patient needs, flow dynamics, and the latest innovations in design that can enhance your patient experience. Without their expertise, you may risk creating spaces that look appealing but lack essential functionality or comfort. 
Contact us today to explore personalised solutions that transform your waiting room into a calm and delightful space.