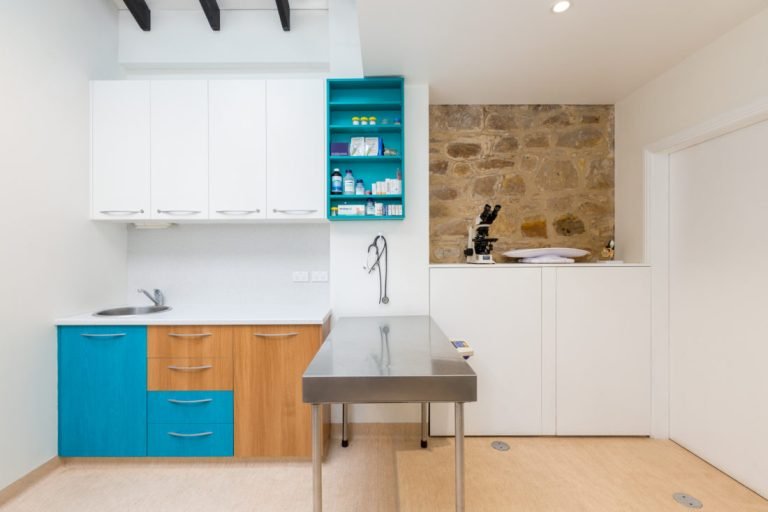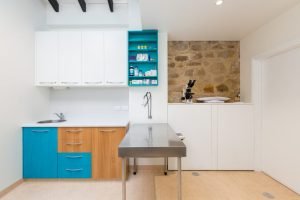 Just like any other healthcare design project, flooring plays an important part in the design of a veterinary clinic.
Choosing the right flooring is crucial. It can save money in the long-term and keep staff and clients safe.
Flooring in a veterinarian clinic should be:
Durable: Flooring that can withstand chemical agents, spills, animal accidents and heavy foot (and paw) traffic.
Have an appealing Aesthetic: Most important in the waiting and reception areas. An attractive looking floor gives clients a good first impression of the clinic.
Slip-resistant: Different animals require different levels of traction. Luxury vinyl and porcelain tiles are popular flooring choices in public areas. While concrete, resin, linoleum and medical-grade sheet vinyl are popular in the examination, surgery and healing areas.
Easy to clean: Considering how much upkeep is needed for each flooring design is crucial in the planning period. Concrete, vinyl and resin flooring are easy to keep clean.
Some of the best flooring options for veterinary clinics include:
Ceramic tiles: The first choice when it comes to durable and easy to clean flooring. Break and chip resistant and stain resistant. Heavy duty cleaners are able to be used due to the strength of the tile's glaze.
Vinyl: A man-made material which has similarities to plastic. Resistant to stains and water penetration. Any chemicals can be used on it without damaging the floor. Less expensive than ceramic flooring choices, although it doesn't last as long.
Concrete: A popular inexpensive flooring choice. Before being used in a veterinary clinic, it needs to be sealed with a concrete sealer to close the tiny hidden pores. This helps protect the floor from stains and allows pets to walk easier on it.
Linoleum: Durable and stain resistant that is natural and environmentally friendly. It is treated with a wear layer that withstands many harmful substances. Easy to clean and can handle the rigours of animals walking on it. Made from renewable linseed oil, it doesn't have any of the problems with the off-gassing of Volatile Organic Chemicals which helps create a more relaxed environment.